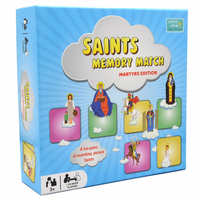 SAINTS MEMORY MATCH: Martyrs Edition
Are you looking for a spiritual and edifying way to have fun? We bring you a learning and exciting game for young children to introduce godly fun time at your Christian homes and gatherings!
This is a memory card game consisting of 24 pairs of the most well-known Martyrs in the Coptic Orthodox Church for children to learn their names, form a spiritual bond and enjoy finding their match.
Pick up the most matching pairs to win!
Order now!
Coptic Who?
Go on a journey with the saints and learn about the cloud of witnesses in a fun way. Ask clever questions to guess the saint on the card.  You only have 8 questions, so be sure to use them wisely! Use your Guide Me cards to get a clue as you journey towards guessing the saint on your card.

Be the first player/team to collect 8 Saint cards.
ORDER NOW limited quantity!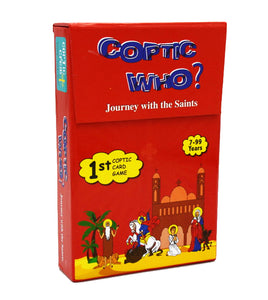 ATTN: AUSTRALIAN RESIDENTS
Order directly from our Australian Distributor or in person!
If you are a resident in Australia, you may place your Coptic Crew orders directly via email or phone number:
aucoptic@gmail.com
You may also purchase items in person from St. George Church at Kensington, Sydney Bookstore or by post.
They will deliver anywhere in Australia!!
everyone loves a good coptic game!!
IT'S A BLESSING

"Such a great idea to get kids busy while learning about our Coptic saints , easy to read even for little ones who just started to read , my 7 years old daughter loves it , she is enjoying it :) adults and kids will enjoy it"

Mary A
LOVED IT

"This game has taught me so much about the saints of my church. I had no idea the stories of these amazing saints. I truly enjoy playing this with my family or a big group of friends. Every new card I learn is a new saint I can learn from. LOVE THIS GAME!!!!"

Laura Yacoub
BEAUTIFUL FAMILY GAME

"It is really great idea to have some Christian games for our kids . My kids really love it . And is for all family ages. We really had fun time. Thank you and we waiting for more"

Nada